Why the Japan Skies are Filled With Flying Fish to Celebrate Children's Day
Children's day, Kodomo no hi, こどもの日, a day where the skies are filled with flags shaped like koi fish all across the country. It may not be one of Japan's most publicized holidays, and even living in Japan it is not given as much attention as many other holidays, but it certainly brings a certain joy to your day when you see 100's of these koi flags swimming in the wind across the country.
If you aren't familiar with Children's day in Japan and how it is celebrated, this article is definitely worth a read. We'll even share some of the best places to take in the celebrations if you can come visit at the right time!
What is Kodomo no Hi?
Children's Day (こどもの日, Kodomo no Hi) is Japan's national holiday celebrating children as you might have guessed. This day is on May 5th and closes out the last of the Golden Week (Japan's favourite holiday) celebrations. Kids really do get a lot of attention, so on this day parents are encouraged to pamper their children as much as possible. The day focuses on the freedom and carefree nature of children, encouraging their personalities and happiness. The government designated it a national holiday in 1948, but it's actually been taking place in Japan for centuries.
The History of Children's Day in Japan
Originally the day was called Tango no sekku (端午の節句) , one of the five annual ceremonies held at the imperial court and celebrated on the fifth day of the fifth moon in the Chinese calendar. When Japan switched to Gregorian calendar, this celebration moved to May 5th, the fifth day of the fifth month. Children's Day used to be called Boys' Day until 1948. The holiday was meant to celebrate boys and honor their fathers, echoing the well-known Girls Day on March 3rd. In 1948, they changed it so that both boys and girls could enjoy Children's Day. They also wanted to place an emphasis on family and how it can be happy regardless of who has what roles.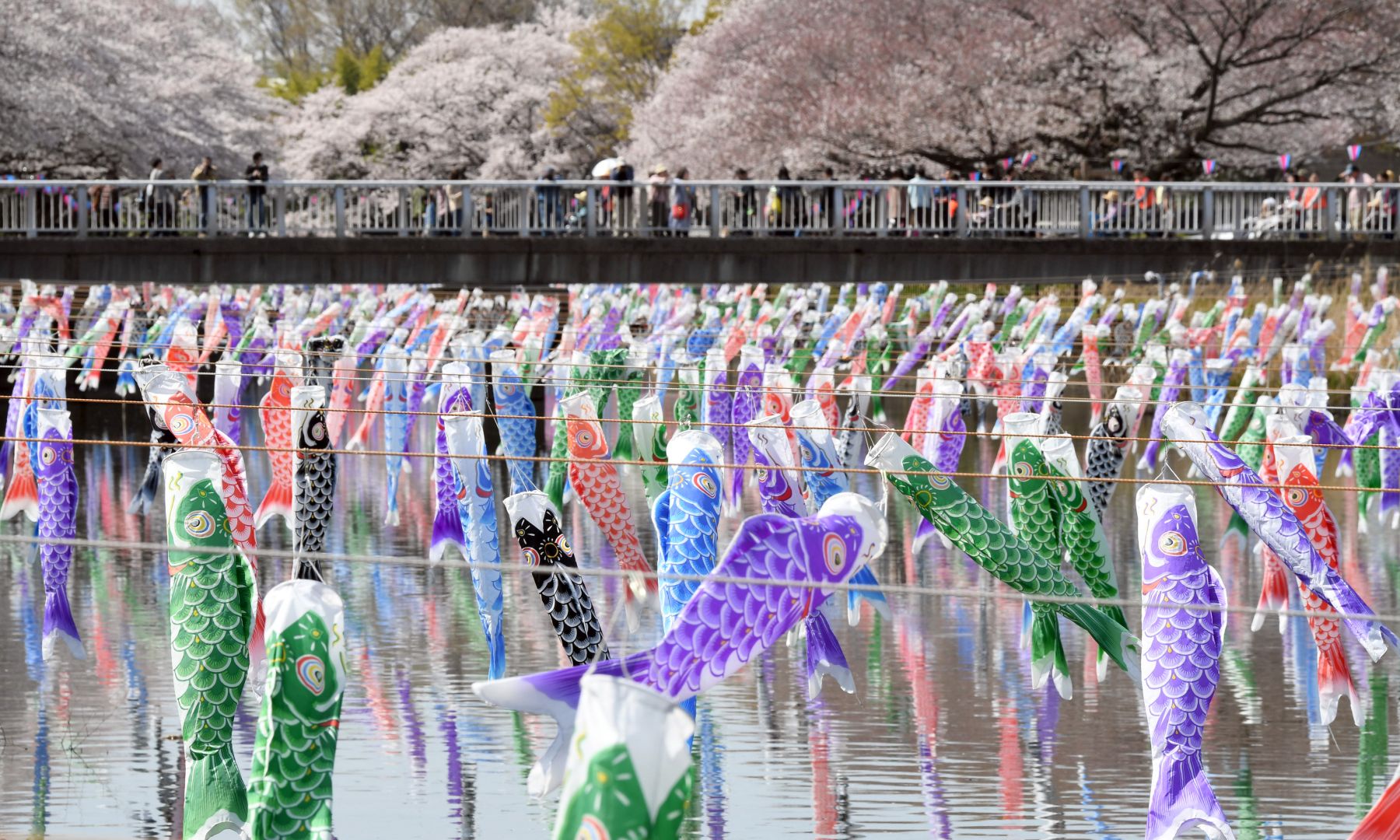 How to Celebrate Kodomo no Hi in Japan With Koi No Bori (Flying Fish Flags)
Around the time of Children's Day, a lot of families raise their carp-shaped windsock in Japan, which have been flying for generations. Koinobori is what people call these things back home and the story originates from an old Chinese legend that says that if a fish swims up stream and gets to the top of the waterfall, it will become a dragon. You'll also find some of the most magnificent displays in local areas where dozens or hundred's of koinobori are put out to dance in the wind. It is a beautiful sight to see.
Traditionally in families that hang up their own koi flags, the father is represented with a Black Carp called the magoi, 真鯉. The mother has either a Red or Pink koi and is known as higoi, 緋鯉, and each of the children would have to have their own koi (often blue but sometimes green or orange). Historically, on Boys' Day, it is the oldest son who is represented with a red fish and blue koinobori for younger brothers. Many families will also make a display of either a samurai doll, occasionally seen atop a large koi finish riding it like a horse(this often represents Japanese folk heroes, Kintarō or Momotarō), and/or a something samurai would use a traditional Japanese military helmet - this is known as the kabuto. It was seen as a symbol of strength and vitality.
Sticky Mochi (rice cakes) filled with anko (red bean jam) and wrapped in oak leaves called kashiwa mochi and chimaki (another sweet mochi treat wrapped in an iris or bamboo leaf) are traditionally eaten on Children's day in Japan.
The Best Places to See Koi No Bori Across Japan
Much like other holidays, you will see decorations all over Japan in preparation for Children's day. Often you will see the koi flags flying in public parks, perhaps some schools, some family homes, but I think the most interesting to see are when the koi are flying over a river.
Here's a list of just a few of the most famous spots to take in the sight!
1. Tsuetate Onsen
On Japan's southern island of Kyushu, in Kumamoto you'll find Tsuetate Onsen. It's a scenic hot spring town known for its rich mineral water and scenic walks through the backstreets that give you that nostalgic Japanese feeling, people also make the trip to Tsuetate Onsen in Spring for its wavy carp streamers in preparation for Children's Day. A sea of colorful koi banners stretch over the local river, creating a spectacular scene. Luckily it is a tiny town, so they're hard to miss so be sure to check them out if you visit in April up to Children's day on the 5th of May.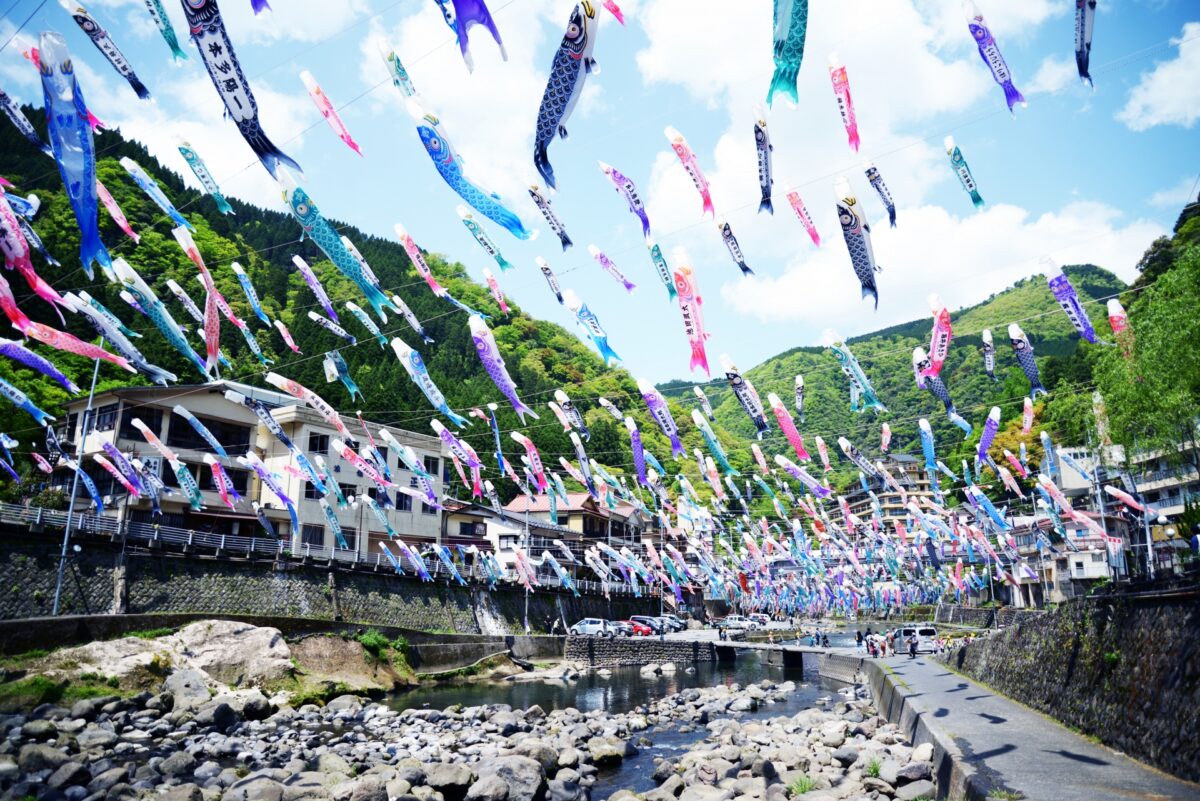 Dates: April 1st – Early May
Website: Tsuetate Onsen
2. Tokyo Tower
It's well known that most people visiting Japan go to Tokyo, so luckily you don't have to travel far out of town to witness some Koi streamers. Japan's famous Tokyo Tower is not only one of Tokyo's most iconic landmarks, it also becomes a home to 333 flying koi (signifying the height of the tower) and a saury during Golden Week celebrations. Saury is traditionally eaten as a dish at festivals in Japan and usually symbolizes "luck" in certain regions. In the prefecture of Iwate, Saury is seen as a special and auspicious meal, which is often consumed during their "Saury Festival". Tokyo has a deep connection with this festival and to remember the 2011 disaster that had affected Ofunato in Iwate, the saury fish is also flown.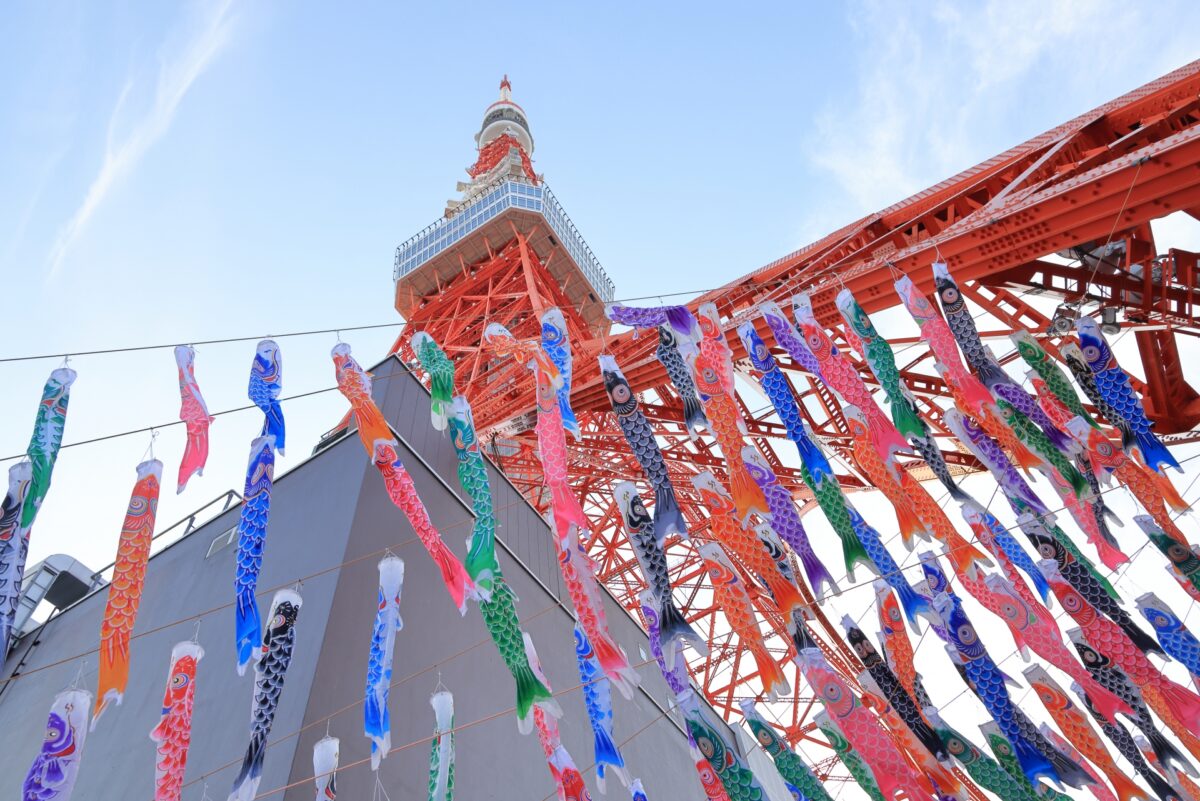 Dates: Late April – Early May
Website: Tokyo Tower
3. Kawagoe
Kawagoe, in Saitama prefecture, is a great place to experience the feeling of traditional Japan in the Edo Period. It has lots of wooden houses just like Kyoto and will give you that same nostalgic feeling. Come here in early May and see for yourself over 800 koinobori hanging above the main streets. The town is in a festive mood! This is the most popular koinobori in Japan, and it's also a favorite of visitors from overseas. You can see it everywhere in the town, including outside hotels.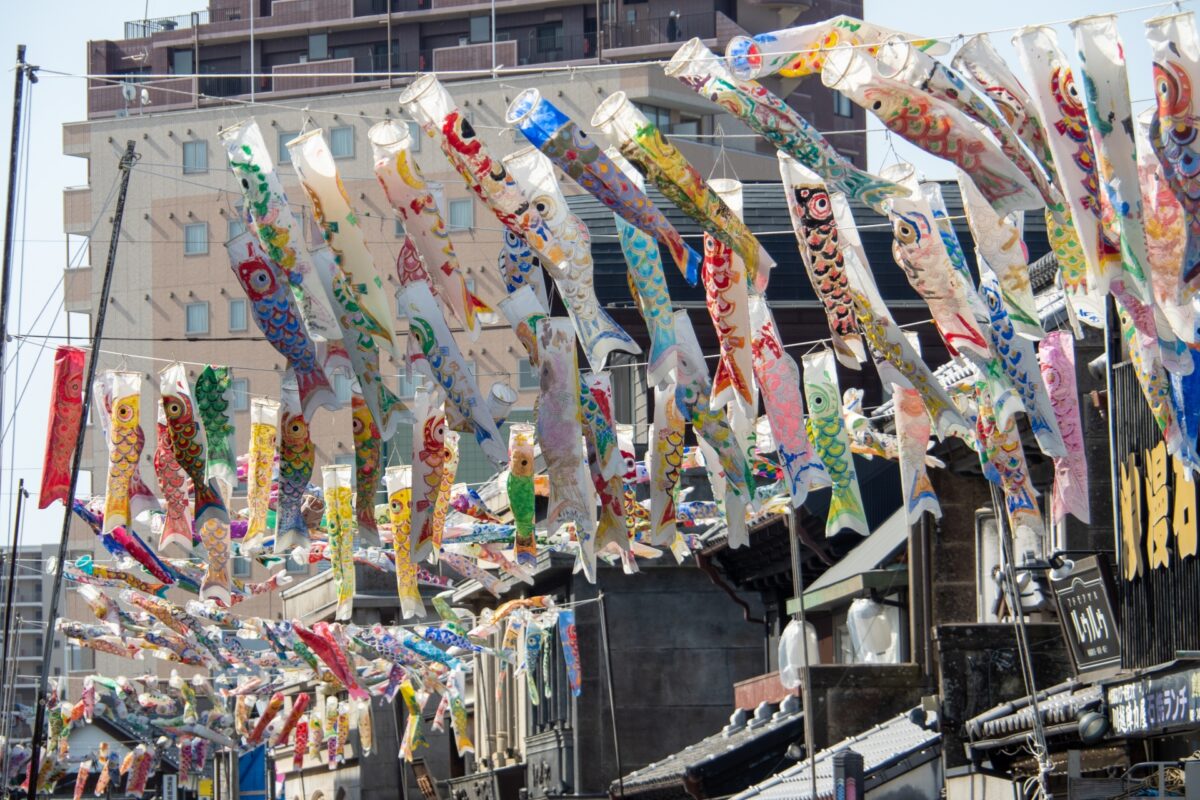 Dates: March 26th – May 15th
Website: Kawagoe
4. Ryujinkyo
The Ryujinkyo gorge is famous as a place where you can go bungee jumping off of a long suspension bridge spanning over the heights of the gorge. If you like to take risks, this may be for you. The experience is really breathtaking. Even though not everyone is into heights, this beautiful gorge located in Ibaraki is definitely worth the visit just for its gorgeous views of the rich forested area while you walk along the 375m long bridge. From mid April - mid May you will get to enjoy a beautiful koinobori display connected to the bridge that provides some cool photo ops. The best views are in the spring when everything is green.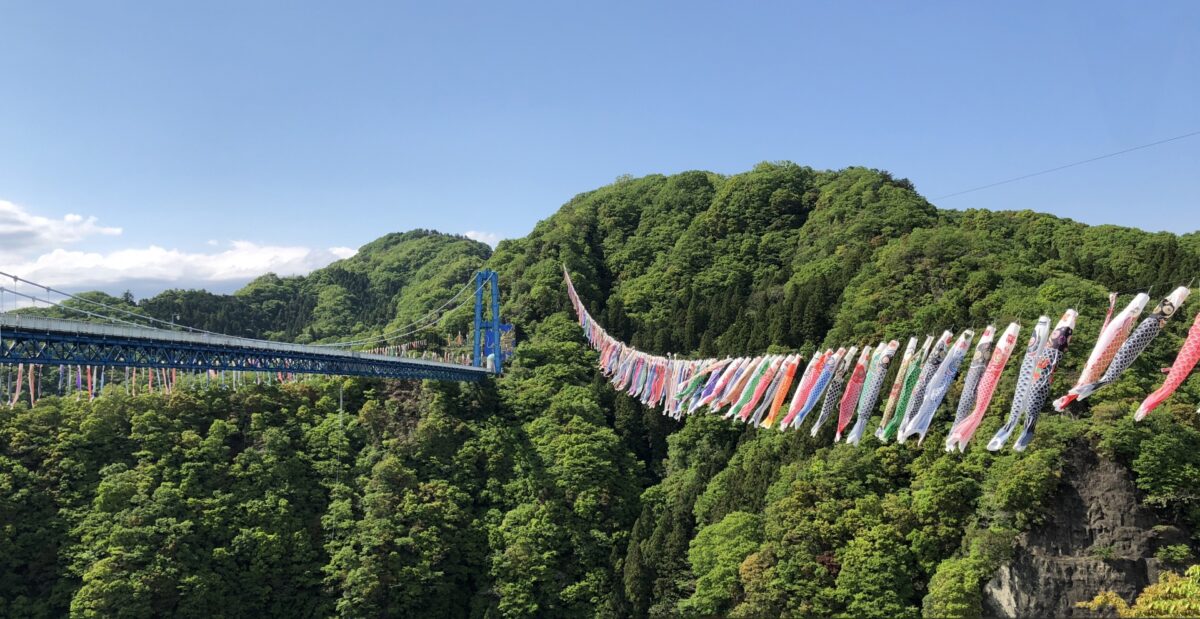 Dates: Mid April – Mid May
Website: Ryujinkyo
How Else Can You Enjoy Children's Day?
Fortunately, Children's day occurs in Golden Week, Japan's favorite holiday. School is out for kids, many companies may give time off work to employees and the weather is beautiful. Even just walking around town at this time of year is pretty amazing. If you really want to enjoy some extra Children's day fun, you can go to the local 100 yen stores such as Daiso. They will often have a specific display where you can find lots of cute items or decorations related to the holiday. You can also visit some small local stores, there is a high chance they will have some Children's day samurai or kabuto displays put out. Maybe one of the most fun and involved experiences you can have on Children's day…why not try talking to some kids? It is Children's day after all!
---