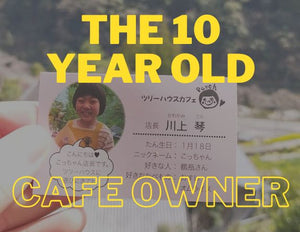 Japan's Treehouse Cafe Run By A 10 year old
Kochi Prefecture's Treehouse Café Perch 
ツリーハウスカフェperch
Nestled in the heart of Ino, Kochi, lies a quaint café that is both charming and enchanting in equal measure. As a first-time visitor to this peaceful area, I was struck by the beauty of the surrounding landscape, with its rolling hills and lush green forests stretching out as far as the eye could see.
Ko-chan, the 10 year old owner

Upon arriving at the café, I was warmly welcomed by Kochan, a delightful 10-year-old girl who serves as the café's owner and manager. Her family had built a magical treehouse that served as a place for relaxation and play, and it has since been transformed into an inviting and cozy café that offers a unique dining experience.
The cafe is only open when Kochan is not busy in school, so your best bet is to go on the weekend. I feel very lucky we happened to stumble upon such an amazing place by chance when it was open.

Truly A Peaceful Getaway In The Mountains
The café's rustic charm and home-like atmosphere immediately put me at ease, as did the warm smiles of Kochan and her family. The treehouse's wooden interior, with its soft and cozy furnishings, offered a peaceful sanctuary where I could relax and unwind while enjoying a delicious meal.

Delicious Homemade Food
The menu at Treehouse Café Perch is small but carefully curated, featuring homemade dishes that are prepared with locally sourced ingredients. I couldn't resist trying the Perch Burger, which was made with chicken eggs raised locally. It was absolutely delicious and bursting with flavor, perfectly complemented by the café's specialty local cola from Kochi prefecture.

I am not usually one for Cola, but I thought it was worth trying and it was surprisingly delicious considering I dislike any other Cola. It had a unique spiced flavor that reminded me of the winter holidays and Christmas.
We finished off the meal with a yummy strawberry parfait. In contrast to the common parfait here in Japan made with syrup fruit and simple cornflakes, this was a refreshing treat with real strawberries and even some brownie in the bottom. When talking to Kochan she said strawberry was one of her favorite fruits and she knows how to create a great strawberry parfait.

The View
One of the highlights of the café was the outdoor terrace, which offered breathtaking views of the surrounding countryside. The terrace was adorned with charming details like twinkling fairy lights and potted plants, which added to the café's enchanting and magical atmosphere.

We Will Go Back To Visit!
As I enjoyed my meal and the peaceful tranquility of the area, I couldn't help but feel grateful for the warm hospitality and kindness of Kochan and her family. Their dedication and passion for their café was evident in every detail, from the carefully prepared dishes to the inviting and cozy atmosphere of the treehouse.
We finished off our lunch by buying some homemade Kochan cookies and some of the families homegrown Shiitake mushrooms that we can't wait to eat later!
The end result - I urge you to visit the cafe
My experience at Treehouse Café Perch was one of pure joy and wonder. Kochan and her family have created a truly magical space where visitors can relax and unwind while enjoying delicious homemade food and soaking up the tranquil beauty of Ino, Kochi.
---