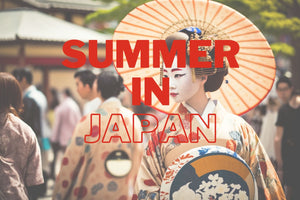 Summer in Japan: Your Need-To-Knows
Summer is one of the most popular seasons to visit Japan, and for good reason. From vibrant festivals to refreshing cuisine and outdoor adventures, there's something for everyone to enjoy. In this ultimate guide, we'll cover everything you need to know to plan your perfect summer vacation in Japan.
Weather and Climate
Summers in Japan are hot and humid, with temperatures ranging from 25°C to the mid 40's in the peak of summer. The heat can be intense, especially in cities like Tokyo and Osaka, so it's important to pack lightweight and breathable clothing. Opt for loose-fitting clothes made from natural fibers like cotton or linen to help you stay cool. Don't forget to bring sunscreen, sunglasses, and a hat to protect yourself from the sun.
You'll actually find many people here using an umbrella in the summer and wearing long sleeves to protect themselves from the sun. It may seem silly, but heatstroke is common here and an ounce of prevention goes a long way.
While the heat can be uncomfortable, it's also a great time to enjoy outdoor activities like hiking, swimming, and camping. Just be sure to take breaks and stay hydrated, as the humidity can make you feel more exhausted than usual.
Festivals and Events
Summer is festival season in Japan, with hundreds of events taking place across the country. Here are some of the most popular festivals to add to your itinerary:
Gion Matsuri (Kyoto): This festival takes place in July and is one of the most famous festivals in Japan. It's known for its elaborate floats and lively street parades.
Tanabata Matsuri (Sendai): Held in August, this festival celebrates the meeting of two star-crossed lovers, Orihime and Hikoboshi. The city is decorated with colorful streamers, and visitors can write their wishes on small pieces of paper and hang them on bamboo trees.
Nebuta Matsuri (Aomori): This festival features huge, illuminated paper floats depicting historical and mythical figures. The floats are paraded through the streets at night, accompanied by drumming and dancing.
In addition to these festivals, there are also plenty of fireworks displays to enjoy. Fireworks (hanabi in Japanese) are a beloved summer tradition, and many cities hold their own fireworks festivals throughout the season. Some of the most popular events include the Sumida River Fireworks Festival in Tokyo and the Omagari Fireworks Festival in Akita.
Food and Cuisine
Japanese cuisine is famous for its delicate flavors and beautiful presentation, and summer dishes are no exception. Here are some of the most popular foods to try during your summer trip to Japan:
Somen: These thin, white noodles are served cold and dipped in a light broth. They're a refreshing and light option for a hot summer day.
Unagi: Grilled eel is said to provide energy and stamina during the summer months, making it a popular dish during this season. It's often served with rice and a sweet sauce.
Kakigori: This shaved ice dessert is a must-try during the summer. It's topped with sweet syrup and often comes in flavors like strawberry, melon, and matcha.
Matsuri food: Many festivals in Japan offer unique and delicious street food. Some popular options include takoyaki (octopus balls), yakitori (grilled chicken skewers), and okonomiyaki (savory pancakes).
Don't be afraid to try something new during your trip to Japan. Summer is a great time to sample seasonal specialties and cool down with refreshing treats.
Outdoor Activities
Summer is the perfect time to get outside and explore Japan's beautiful nature. Here are some popular outdoor activities to consider:
Hiking: Japan is known for its beautiful mountains and hiking trails. Some popular hiking destinations include Mount Fuji, the Japanese Alps, and Yakushima Island. Just be sure to check the weather conditions and bring appropriate gear and supplies.
Beaches: Japan has some fantastic beaches that are perfect for swimming, surfing, and sunbathing. Some popular beach destinations include Kamakura, Enoshima, and Ishigaki Island.
Camping: Camping is a great way to experience Japan's nature up close. There are many campsites throughout the country, ranging from basic sites to more luxurious glamping options.
Waterfalls: Japan is home to many stunning waterfalls, and summer is a great time to visit them. Some popular waterfalls include Nachi Falls in Wakayama Prefecture, Kegon Falls in Nikko, and Shiraito Falls in Fujinomiya.
No matter what your outdoor interests are, Japan has something to offer. Just be sure to research and plan ahead to ensure a safe and enjoyable experience.
Places to Visit
Japan has no shortage of amazing places to visit during the summer. Here are some must-see destinations to add to your itinerary:
Tokyo: Japan's bustling capital city is a must-visit during any trip to Japan. From world-class dining and shopping to vibrant nightlife and cultural landmarks like the Senso-ji Temple and Meiji Shrine, Tokyo has something for everyone.
Kyoto: This historic city is known for its beautiful temples, traditional architecture, and stunning gardens. Some must-see sights include the Fushimi Inari Shrine, Kiyomizu-dera Temple, and the Arashiyama bamboo grove.
Hokkaido: Japan's northernmost island offers cool temperatures, stunning nature, and delicious seafood. Popular destinations include the city of Sapporo, the Shiretoko Peninsula, and the lavender fields of Furano.
Okinawa: This chain of islands in the south of Japan is famous for its pristine beaches, crystal-clear waters, and unique culture. Some must-visit sights include the Churaumi Aquarium, the Shuri Castle, and the Ryukyu Mura cultural village.
Accommodation
There are plenty of accommodation options in Japan to suit every budget and preference. Here are some popular choices:
Ryokans: These traditional Japanese inns offer a unique cultural experience, with tatami mat floors, futon beds, and communal baths. Many ryokans also offer traditional kaiseki cuisine.
Hotels: Japan has a wide range of hotels, from luxury options to more budget-friendly choices. Many hotels offer amenities like onsen (hot springs) and breakfast buffets.
Airbnb: Renting an apartment or house through Airbnb is a great way to experience local life and save money on accommodation costs. Just be sure to research the location and host reviews before booking.
It's recommended to book your accommodation in advance, especially during peak season, to ensure availability.
Summer in Japan is a magical time, with endless opportunities for adventure, culture, and relaxation. Whether you're attending a festival, trying new foods, or exploring the great outdoors, you're sure to have an unforgettable trip. Just be sure to plan ahead, pack appropriately, and take precautions to stay safe and healthy.
Be sure to read our article on why the summer can be one of the WORST times to visit Japan. We know it's one of the most popular times and there are many amazing things about summer in Japan, but there are a few things that make it less great.
---