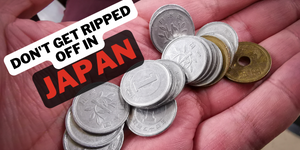 The Absolute Best Way To Manage Money When Travelling In Japan
You've been planning your trip to Japan for months, and maybe you've been thinking about it for years. Everything is booked, you have your flight, your accommodations, your itinerary... everything is ready to go! But wait, you need some Japanese yen to buy your delicious food, train tickets, and all those amazing souvenirs to bring back home. Any idea the best way to actually get and use your money here in Japan without losing out with terrible exchange rates and high fees. We've got you covered with a few tips and our best recommendation on how to use your money in Japan. 
Hint: it's WISE, the most recommended method by the foreign community here in Japan and the method we personally use as well.
Japan Is A Cash Society 
In Japan, cash is king. You may have heard that it's difficult to use credit cards in Japan and there are many stories of people needing to scramble and apologize when they don't have cash at a restaurant when it's time to pay before running off to an ATM to come back, embarrassed, to pay your bill. 
While Japan is getting better and more and more places are accepting credit cards, or phone payment apps such as PayPay, it is not difficult to find places that still only accept cash. 
While this is somewhat easily managed if you plan ahead, you'll be surprised to find out that may ATM's in futuristic Japan actually close at 5pm (ATM's need a rest too, of course). Convenience stores live up to their name and are generally the most convenient place to withdraw money and you can use your foreign credit cards such as Visa or Mastercard to withdraw money. BUT. The fees...
Fees Fees and More Fees
I will admit, convenience store ATM's will likely be the easiest way for you to have access to your money, but expect to pay a fee for the ATM, a bad exchange rate, likely a fee from your bank for an international use, and perhaps another exchange fee on top of that. Ouch. That easy, convenient money withdrawal is something you will be paying for. Even if you manage to make it to one of those bank ATM's before the go to sleep for the night, don't expect them to be better. There is a good chance they are actually worse. Those banks want a little piece of your foreign money as well.
What Should You Do About It?
Here's where you can learn from the experiences of all of those who came before you. Get a WISE account. Wise is basically a digital bank. You can set up multiple bank accounts with them in multiple currencies and they make it extremely easy to move money internationally with great exchange rates and minimal fees. WISE is used and recommended by almost everyone in the foreign community here in Japan, and it is easy to see why. Good rates, fast transfers, and it is easy. Many people living here use WISE wo move money from their foreign bank accounts to their Japanese accounts.
"But, I don't have a Japanese Bank account", you're thinking. No problem. What you need is WISE's debit Mastercard.
To keep it simple, you can order a debit Mastercard, directly connected to your home bank account. Mine was free to order, but it may vary based on your location. 
Once you have this card, you can use it in over 50 currencies globally. This means when you are in Japan, you can use it at a restaurant without the outrageous exchange fees. You can take money from an ATM without the crazy extra fees. You don't need to get ripped off at one of those currency exchange shops in all of the busy tourist areas. Save your money and put it towards enjoying your trip in Japan. 
How Useful Is It?
Well, it functions like a normal debit card. Just use it to pay or withdraw money like a normal card. Even better, it is directly synced to the WISE app so you can see all your transactions. 
It can be easy to get caught up in your travels and lose track of how much you are actually spending, especially when you need to convert currencies in your head. The WISE app is such a simple way to keep track of your travel budget.
Benefits of the Wise Japanese yen card.
Here are 9 straight-forward reasons the WISE card is great.
Send and spend money in Japanese yen and more than 50 different currencies
No need to exchange and carry cash
Virtual card

 

feature
Accepted in shops and restaurants all over the world
Free ATM withdrawals from more than 2 million ATMs worldwide (up to £200 per month)
Our free app lets you top-up, check your balance and transactions, and convert in real time
Instant transaction notifications on your phone
Chip and PIN and contactless-enabled
Freeze your card if it's lost or stolen
How To Prepare Ahead To Save Your Money
The process is extremely simple. Click HERE, sign up with a wise account for FREE, and request the debit Mastercard. It should be delivered in a few weeks and now you have it. Of course we are specifically referring to using it in Japan, but it is useful globally. I only wish this was available on my first visit to Japan.
It's great that you are planning a trip to Japan and looking into ways to manage your money while you are there. We have mentioned several convenient options for accessing and managing your money, such as using a debit card with no foreign transaction fees and the ability to make free ATM withdrawals from a wide network of ATMs.
While you are in Japan, you may also want to consider brushing up your Japanese language skills. In this article we suggest using YouTube as a resource for learning Japanese, with several channels offering educational videos on the language. Some options mentioned include JapanesePod101.com and Dogen, which offer a range of content including proper pronunciation and pitch accent, as well as comedy videos.
By combining these resources, you can not only manage your finances effectively while traveling in Japan, but also have a more immersive and enriching experience by being able to communicate with locals and better understand the culture.
---