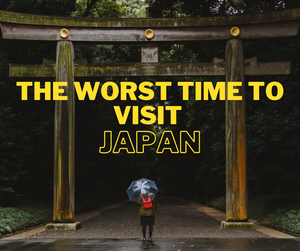 Top 5 Reasons Why the Rainy Season is the Worst Time to Visit Japan
Welcome to the Rainy Season in Japan
Japan's rainy season is a time of year when the rain pours down in buckets and the sky is perpetually overcast.
This season lasts from June to July, and it's not just an inconvenience for travelers; it can be life-threatening.
Japan's rainy season can have some pros, but we would be lying if we didn't think it was mostly cons. It can be a great time to see some sights in a different light with less people around. Having been caught in a rainstorm while visiting traditional gardens and old castles, it is certainly a different experience outside of what most people have when visiting Japan.
We will go into some more cons later, but it is also good to be aware that it also causes heavy traffic on roads due to flooding and the most dangerous part of this weather pattern is that landslides are more likely to happen during this time of the year."We have seen an increase in the amount of landslides taking place due to the constant and heavy rainfall this time of year. I have personally seen some major roads going over a mountain closed down. The road was so covered in water flowing down from the mountains it was like a waterfall.
Reason 1: The Weather is Terrible
Japan is known for its beautiful cherry blossoms, traditional temples, and vibrant cities, but one of the lesser known things about Japan is how unforgiving the rainy season can be. The rainy season in Japan lasts from late May to July, and it is characterized by heavy rain and humid weather.
It can be difficult to predict exactly when it will start, but once it does, you will know. That humid feeling is inescapable and the constant rain will be obvious.
The first reason for Japan's rainy season is that it an island. Surprise! Japan's location on the edge of the Pacific Ocean creates a natural wind called "the jet stream" which moves moisture-laden air from the ocean towards Japan. The proximity to the sea results in high humidity levels and heavy rainfall during this time of year.
Of course a rainy season is not unique to Japan. There are many countries who have rainy seasons, particularly in the island nations of Asia. That being said, after having spoken to a number of people here in Japan who have lived in Indonesia, Thailand, and The Philippines, among others, every single person has said that Japan's humidity felt the worst.
You can expect to have a humidity of 75% on most days during this season. I'm not sure why it feels so much worse than other countries previously mentioned, perhaps the many mountains block the wind, maybe it's because it's a quick transition from nice pleasant weather, to hot, humid, and wet that makes it feel worse than a country with more consistent weather.
Regardless of the reason, many people may be surprised to arrive in Japan and be constantly sweating, feeling drained, and running into convenience stores to hide from the rain.
Reason 2: It's Hard to Enjoy Yourself Outside
You're finally coming to Japan, even if it's only for a short while. The last thing you want is your time to be filled with looking out the window waiting for the rain to stop. Tsuyu (the rainy season) is of course important for the plants and farmers here, but it is a time of year when many people find themselves staying inside more often than not. The rainy season in Japan can make it difficult to enjoy yourself outside and if you're coming here to enjoy Japan to the fullest, that likely involves going outside and exploring everything Japan has to offer.
The best way to combat this is of course with an umbrella. You will find them in convenience stores, a number of subways will have a machine that dispenses them, and dollar stores such as Daiso will also carry plenty. Alternatively, you could just brave the rain, but if you choose to ride the train, the other passengers may not appreciate a soaking wet person rubbing up against them.
The most common ways to enjoy Japan involve visiting temples, castles, and walking the streets to experience the vibrant cities you visit. The whole experience feels a little damp if it is constantly raining.
Reason 3: It's Difficult to Prepare For Japan's Rainy Season
The rainy season in Japan is a time when people start to worry about what clothes to wear. Some people may have specific outfits just for this time of year.
There are many different clothes that people can wear for the rainy season in Japan. The first thing people should consider is the type of rain that they will be exposed to. Just like most places, there are two types of rain: light and heavy.
Light rain is easier to deal with because it does not soak into clothes as easily, but it can still make you wet if you don't have a good umbrella or raincoat.
Heavy rain can soak through clothes and make them heavier, which makes it difficult to do things like running or climbing stairs during the rainy season.
Here's the thing - regardless of the type of rain, because of the humidity, you'll find even if it's a little rain, you won't dry off very well, and you may even be more wet from sweat. This can easily lead to some funky smelling clothes and you should take some steps to try and keep as dry as you can.
An important consideration for clothing during the rainy season in Japan is how much water it will absorb before becoming heavy, so people should choose materials that do not hold water. You will find a lot of clothing from Japan is designed to be lightweight and not hold a lot of water. It is important to choose clothing that will not muffle the movements of the body, such as clothes with short sleeves and loose fitting clothes, which will keep people well-ventilated. We also recommend wearing sandals or shoes rather than heavier boots during the rainy season
Interestingly, you will see a lot of Japanese people at this time with towels around their necks. IT is very common to keep a small towel with you to wipe off sweat from your neck, head, and face. You could even get one as a souvenir, your very own sweat towel!
Reason 4. The Weather is Unpredictable
Japan's weather can be unpredictable at the best of times, but the rainy season can be even more so. It is safe to just assume it will rain. You may be familiar with that feeling of "it will rain soon" or "a storm is coming". You may think you are feeling that in Japan, and it just never comes. You can check the weather 10 times a day and it says it will be a clear day, and within the hour it changes to rain. I have been on many bike rides where just over the mountains on the other side of town it is raining, while it is perfectly sunny where I am.
Japan's weather can change in an instant and be very localized. Of course it is good to check weather apps, but if you can, I would cross check across a few. It is not uncommon for one to say it is clear, while the other will say it will rain.
As for the rainy season, I know in some other countries, after the rain there will be some relief from the humidity. Not Japan. It will be humid. Then pour rain. Then continue to be humid. Now your wet and sweating.
Just remember, it's safer to have an umbrella. You can buy a small one that folds down and could be put in a purse or backpack.
Reason 5. You'll Spend More on Expenses Due to Bad Weather Conditions
This may be something not thought about as much, but bad weather could actually cost you more. Of course you won't be charged more when it's raining, but a lot of more affordable options may not be available to you due to the rain. Want to go explore the city? You may find yourself needing to take a bus, train, or taxi where you could have just walked if the weather was nicer.
You might find yourself getting caught in a rainstorm and needing to jump into the closest building. Maybe a cafe, restaurant, convenience store, or local shop. You may not necessarily need to buy something, but if it's a restaurant, you will likely need a table and it would certainly be rude to sit there and not order anything. Even if you weren't planning on it.
Additionally, if you're not prepared ahead of time with that umbrella we mentioned earlier, you may find yourself buying the closest one you can get and there's a good chance that umbrella may not be the best deal. Especially in an area often visited by tourists.
You may also find yourself buying clothes you weren't expecting. Perhaps you are ok walking around in wet clothes, but if you have plans, get caught in the rain and are all wet, you may decide to go buy some clothes to change into so you can better enjoy the rest of your trip. (If you do, we suggested a second hand shop such as 2nd Street)
Ways To Enjoy The Best Of The Rainy Season In Tokyo
keywords: fun things to do during a rainy day in tokyo, tips for traveling in japan during the rainy season
Tokyo is a city that is always bustling with activity. But, during the rainy season it can be tougher to think of what to do.
Tokyo has a lot to offer for people who want to experience the best of the rainy season. There are many activities that one can do during these months and we have compiled a list of them below:
1) Explore Tokyo's numerous museums and galleries
2) Enjoy some local restaurants
3) Visit some of its many parks (with a big umbrella)
4) Take in some of Tokyo's night views from the sky deck at Roppongi Hills or Tokyo City View Observation Deck
5) Visit Tokyo Tower
6) Marvel at the Shibuya scramble full of umbrellas
7) Go watch a show like at the Robot Restaurant
8) Take a class where you can learn a traditional Japanese craft or art
9) Walk through the many covered shopping arcades
10) Challenge your friends at a gaming arcade
It's not all bad...
In general, the rainy season isn't a great time of year to visit the country, but maybe that is only because it is compared to the rest of the year (although the summer is hot… very hot). Rain and humidity aside, Japan is still an amazing place to visit and there are countless exciting and amazing things to do. If anything, it gives you the opportunity to be a little more creative and have some experiences outside of the usual tourist traps.
---