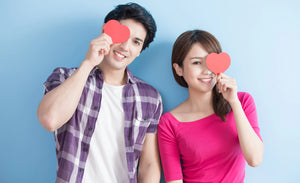 Finding Your Love In Japan: Which Dating App Is Best For You?
Let's take a look at Japan's most popular dating apps.
10 dating apps to swipe right or left to find the person of your dreams here in Japan.
You have moved to Japan, believing that the dating scene here would be excellent and full of new opportunities. You might have been hoping to find the perfect Japanese person for you and things leading to a happy ending or at least some fun for a while. But then…you arrive, realize not a lot of people speak English, their schedules are super busy, and the dating style is a little different than what you're used to. That's ok, you're up for the challenge.
It's great that you have the right mindset when looking for a relationship but what you might not realize is how much more work can go into it in Japan. A lot of people end up having to put in more legwork than they would if they were living abroad. Dating is already a hard enough process to get through, but shyness combined with language and cultural barriers plus the not-so-little matter of a global pandemic can cause difficulties that make it seem even more stressful.
The good news? There's plenty of places you can find love online. A quick search online will show you dozens of different (出会い系 online dating) apps, but how do you know what will help you find who or what you're looking for?
Having been there, done that, We decided to do the testing for you to find out what apps or sites worked best and which didn't.
Tinder is an app which people use to look for different types of relationships. If you are actively looking for a person to begin a relationship with them, then you will more than likely find someone through this app. You may also find potential friends, networking contacts and activity partners through the Tinder app. I've met a whole bunch of people for summer festivals and I can speak from experience when I say that Tinder isn't just for one type of thing.
Tinder has started giving its global passport to all of its users for free in 2020. This could be a great opportunity for you to connect with people here in Japan, even before you arrive!
One thing to keep in mind about Tinder, I have noticed a large number of users do not show pictures of themselves, or at least no their faces. This is likely because Tinder has a reputation as a hook-up app and they would prefer not to have other people finding out. You'll find plenty of pictures of food or vacation spots.
Language: Mainly Japanese, English

Fees: Free, special features require a monthly subscription

Original Ranking: 4 stars

2022 Ranking: 5 stars
Bumble 's goal is to encourage women to make the first contact and if they don't, then the match expires in 24 hours. This app requires users to have a Facebook profile in order to log-in. This has netted it less popularity in Japan, but more popularity with women because of their "women get to choose" option.
One of the females I spoke to about this app (who found a Japanese partner on it) put it like this: "There are a lot of people on there and most of them aren't on other dating apps so you don't get as many fake profiles. Bumble gives you more control over "do I want to bother talking to him" which is great if you're a girl.
In 2022, the app isn't just for dating but also for business opportunities and making friends. Bumble allows you to switch quickly between features and build a social circle using the app. It's really versatile and great for people around the world to use.
Language: English (More than other apps), Japanese

Fees: Free, special features require a monthly subscription

Original Ranking: 4½ stars

2022 Ranking: 5 stars
OkCupid's Japanese version is known for it's advanced level of detail compared to other dating apps, and the average person spends 45 minutes filling out their profile. Leaving your profile blank may seem like a good idea at first, but it mainly leads to you to staying unnoticed. So remember: it's important to make your account as rich as possible. Some people who use it say "OkCupid has a lot of repeat daters, so the quality of matches may be lower for those using other dating apps.."
In the 2022 dating scene, OkCupid is still popular but there are many fake accounts and a lot of users that never bother to follow up. So unless you're very determined to use it, you'll probably have less trouble on other apps.
Language: English, Japanese, and others

Fees: Free, special features require a monthly subscription

Original Ranking: 3 stars

2022 Ranking: 2 stars
Not to be confused with OkCupid, JapanCupid is a part of the Cupid Media Group. They are a niche-based dating site that connects people from around the world rather than their immediate area. This has made it a less popular platform for people in Japan, as Japanese people looking for serious relationships will be focusing on long-term options. Still, JapanCupid is popular with those who are not staying in the country for long. People use it to look for partners who want to marry into the culture.
It's unfortunate that, in 2022, not much seems to have changed. Another friend of mine logged in for the first time and was inundated with a number of obviously fake profiles. They soon deleted their account in response. "It's always weird when someone claims to be a Korean pop star that is actually old Japanese. man."
Language: English, Japanese, and others

Fees: Free, special features require a monthly subscription/fees

Original Ranking: 3 stars

2022 Ranking: 1 star
5. MatchAlarm
MatchAlarm was a matching website that suggested a new person to you every morning at 8 a.m. based on the social information it acquired from your Facebook profile and your behavior. You had 16 hours to respond to an alarm after which it would disappear, and would require three coins (a part of the in-app payment system) in order to tap the "Might Like You" button. Unfortunately, MatchAlarm is no more and cannot be accessed anymore.
The largest dating site in Japan that is based on your social media information, this quick and easy way to find your perfect match. This is another konkatsu (matchmaking) service, so if you're looking for a serious relationship then this could be a good option, but if you're trying to keep things casual, Omiai might not be the site for you. The site allows you to filter search results by nationality and income level and some users said this made the site seem more for rich people or people who are looking for someone to spoil them, than a serious dating website. No one had any complaints about the website in general, though.
For daters in 2022 with the Japanese language skills to keep up, Omiai has refreshed itself like Tinder and Instagram use, focusing on it being a relationship/marriage-centric app. If you're really looking to find a marriage partner, this is probably your best option when it comes to dating apps.
Language: Japanese

Fees: Free for women, ¥1,950 per month (for the 12-month plan) for men

Original Ranking: 4 stars

2022 Ranking: 4 stars
The app Tapple lets you find your perfect match by filtering through what sort of person you're interested in. All you do is specify which interest group(s) to join and then follow them! You can skip or like profiles based on their niche interests and personal criteria. If you don't feel connected, then swipe left to pass.
User results may vary, but for the few I met, it was a bit of a double-edged sword. They seemed very excited to meet and talk on this app but then when it came time to meet in person, they became uncertain. One guy was quoted as saying he would rather talk with and date online exclusively. I also talked to a number of foreign female users who had similar results, so this might not be the best choice if you are looking for something serious.
Thanks to a design overhaul, Tapple is now an up-to-date app about relationships and friendships. TV commercials have also helped bring competition to the market. Young people in their 20s are increasingly interested in this type of app because they want a connection that could lead to love, even if it's just for friends. This can be a great starting stage for those who are new to online dating or not yet ready to have live interactions with personals.
Language: Japanese

Fees: Free for women, monthly subscription fee for men (varies by number of months desired)

Original Ranking: 2½ stars

2022 Ranking: 4 stars
YYC has been around for 20 years according to its website and still lists itself as the largest dating service in Japan. When you join, you get 300 points to share with others - that help you find a match to connect with your personal preferences. A huge portion of the YYC service's users are young professionals. YYC is a dating site designed for people who are into blogging and being an influencer and you might find it more of an annoyance than a help if you don't constantly update or message. "Casual players always come and go after a free trial. Use this as an indication that it isn't the site for you if you aren't ready to commit to the effort," said one user.
None of the ladies I spoke with used YYC, so I decided to try it out and I was pleasantly surprised. It is a bit repetitive but as long as you have Japanese skills it's easy enough to navigate.
Language: Japanese

Fees: Free for women, monthly subscription fee/points system for men

Original Ranking: 3½ stars

2022 Ranking: 3 stars
Pairs is also a popular online dating site and and app that has had a large media push. You may see ads in apps, TV and train commercials since the launched. Pairs will also use your Facebook profile to login and gather some information, but it lets your hide your full name, allowing users to be identified by initials instead. Their main audience generally tends to be younger Japanese guys, "so there are plenty of guys to choose from, but those that are interested in pursuing a serious relationship with a non-native Japanese speaker are harder to find, at least in my experience," according to a user.
"It has changed a bit since it launched, but nothing really outstanding has changed about the quality of the people using the app," says the same person as above in 2022. "I still use it occasionally, and you can find someone nice, but I find it more work than some other apps out there now."
Language: Japanese

Fees: Free for women, monthly subscription fee for men

Original Ranking: 3 stars

2022 Ranking: 3 stars
Zexy Koimusubi is a dating app that's part of an even bigger wedding services company in Japan. It works on the same principles of matching people based on shared interests and uses your Facebook profile to do it, but other than that it seems to work a little differently. It's hard to say why there are so many weddings popping up on this app, but I know of at least four people who met their partner through it way. Two of my friends went on dates with someone they met and ended up tying the knot.
"I met my husband on this site, so of course I would recommend it to anyone who is serious about getting married, having kids, and staying in Japan. It does work if you're brutally honest with yourself about what you're looking for. If you're still trying to figure it out- best of luck!" (Jane, American, 31)
Language: Japanese

Fees: initial one time ¥108 fee for women (for ID check purposes), monthly fee for men

Original Ranking: 4 stars

2022 Ranking: 4½  stars
The website Happy Mail is said to have the most members of any dating app in Japan. There are just over 25 million people on Happy Mail, looking for everything from pen pals to serious marriage partners, and they continue to grow more than 20 years after they began in 2001.
Based on the experiences of a few genders, it seems similar to Pairs but more like Tinder in terms of matching. There are different options for how you want to approach dating in 2022; this app isn't for everyone
Language: Japanese

Fees: Free for women (plus a 120 coin present as some services require points), points/pay as you go fees for men

Ranking: 4 stars
You may have a tough time finding someone on Japanese "serious" dating apps that you actually consider dating. This is because most of them require an ID photo after paying. The main goal of these apps is to find out if a person is suitable for marry. If that's your goal, don't mind the extra steps! Good luck in finding the best for yourself!
---