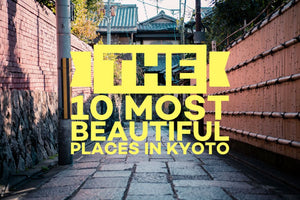 The Most Beautiful Places in Kyoto – A Travel Guide for Everyone
The 10 Most Beautiful Places In Kyoto - A Tourist's Dream Come True
 Kyoto, Japan is a city that is surrounded with temples, shrines and castles. From these 10 most beautiful places in Kyoto, you will have the opportunity to experience the beauty of different eras.
Kyoto was once the capital of Japan for more than 1,000 years. It was founded in 794 AD and its name means "Capital of Peace." In Kyoto, you can find old world charm with a modern flare as it preserves its heritage while also embracing new trends. It has been ranked as one of the top 10 most beautiful cities in the world by many sources from around the globe including TripAdvisor and Lonely Planet. With its rich history and stunning natural landscapes it's no wonder that Kyoto is a tourist's dream come true!
The Kyoto Imperial Palace, the bamboo forest, the red torii gate at Fushimi Inari Shrine, these are just some of the places that you should visit when you are in Kyoto, Japan.
Kyoto is a city full of history and beauty. It is hard to choose which place to visit first if you are visiting for the first time. Thinking about the many options can make your head spin!
This article will help you with making your decision by telling you about the 10 most beautiful places in Kyoto.
1) Fushimi Inari Shrine
This shrine has a long history with its foundation dating back to 711 AD, making it one of the oldest shrines in Kyoto. One of its most popular features is the Torii gate with thousands of red-orange torii gates spread over a mountain range as if they're climbing up to heaven. One of my personal favorite aspects of Fushimi is that it is both free and does not close. Going at night is one of my favorite times to visit this temple since nobody is there.
Time: 24hr
Location: 68 Fukakusa Yabunouchicho, Fushimi Ward, Kyoto, 612-0882
Website: http://inari.jp/en/
2) Kiyomizu Dera
Every year, many tourists come to Kyoto to experience the beauty and serenity of this place. Some of them visit it as a part of a spiritual journey while others come here for the sake of experiencing the picturesque environment. Kiyomizu Dera has one of the most beautiful views of the city
In addition, Kiyomizu Dera is also popular among those who are interested in architecture and history. This building is one of the most well-preserved wooden buildings in Japan and it dates back to 1633. It was built by a Buddhist monk, which means that there's a lot that can be learned from its design.
Time: This varies by season, but the temple always opens at 6:00 am and closes at either 6pm or 9:30 pm depending on the time of year and if there are night viewings.
Location:1 Chome-294 Kiyomizu, Higashiyama Ward, Kyoto, 605-0862
Website: https://www.kiyomizudera.or.jp/en/
3) Gion
Gion Shijo is a district of Kyoto, Japan, located south of the Kamo River. The name means 'shady side of the Shijo'. It is one of the most important geisha districts in Kyoto.
The area's attractions include Yasaka Shrine with its many shops and restaurants, Gion Corner with its narrow streets, Gion Kimono Museum, and Yasaka Jinja Shrine. It is an area of Kyoto that prides itself on its traditional charm and has in fact banned photography there. Because it is one of the few places you can see Geisha walking around, many people would rudely interrupt or take photos of them without asking. This resulted in the ban in that area.
Time: 24hr
Location: Gionmachi Minamigawa, Kyoto, 600-8340
Website: https://www.gion.or.jp/map/
4) Nijo Castle
Nijo Castle is a fantastic example of Japanese architecture. It was built in 1603 by Ieyasu Tokugawa, the first shogun of the Tokugawa dynasty.
It is one of the most beautiful castles in Japan. It has two moats, one outer and an inner moat which are connected by a narrow channel, called "The Golden Bridge."
The castle grounds are quite large, with 360 acres of gardens and an area three times that size for the castle itself.
It also has four gates called San-no-Maru (West Gate), Nishi-no-Maru (East Gate), Kita-no-Maru (North Gate) and Minami-no-Maru (South Gate).
Time: 8:45am-4:00 pm (closed at 5:00 pm)
Location: 541 Nijojocho, Nakagyo Ward, Kyoto, 604-8301
Website: https://nijo-jocastle.city.kyoto.lg.jp/?lang=en
5) Toji Temple
The temple is a UNESCO World Heritage Site and is an amazing place to visit. It has a rich history that goes back to the 9th century when it was established by the monk Genshin, who was also an influential priest in Japan. The temple attracts millions of visitors each year because of its beauty. Here you will also find a large pagoda.
Time: 5am-5pm (although different areas may have different times)
Location: 1 Kujocho, Minami Ward, Kyoto, 601-8473
Website: https://toji.or.jp/
6) Kinkakuji - Kyoto's Golden Temple
This temple is often called the Golden Temple. It is one of the most iconic landmarks in Kyoto, Japan. It was built in 1397 by Ashikaga Yoshimitsu, the most powerful of the shoguns during the Muromachi period.
Kinkakuji is a Zen Buddhist temple, which means that it was designed to be a place for people to pray and meditate. The name Kinkakuji comes from two words meaning "golden pavilion." This temple has three elements that are specifically mentioned in its name: gold, pavilion, and ji (meaning temple).
Kinkakuji is one of Kyoto's most famous spots to visit, and it is well worth it to see such a unique temple.
Time: 9am-5pm
Location: 1 Kinkakuji-cho, Kita-ku, Kyoto 603-8361 Japan
Website: https://www.shokoku-ji.jp/en/kinkakuji/
7) Ginkakuji - Kyoto's Silver Temple
Ginkakuji is a Buddhist temple in Kyoto. It is also known as the Silver Temple, although the temple is not covered in silver the way Kinkakuji is in gold.
Ginkakuji was originally built in 1482 by Shogun Ashikaga Yoshimasa who had just returned from an eight-year pilgrimage to China. With its stunning architecture, Ginkakuji has been designated as a World Cultural Heritage Site by UNESCO.
Ginkakuji and Kinkakuji are often thought of as sister temples in Kyoto as one is called gold (kin) and the other is silver (gin). They are also found and the base of mountains on opposite sides of the city.
Time: Summer (3/1-11/30): 8:30 a.m.-5:00 p.m.
Winter (12/1-2/28): 9:00 a.m.-4:30 p.m.
Location: Ginaku-ji (Higashiyama Jisho-ji)2 Ginakuji-cho, Sakyo-ku, Kyoto 606-8402 Japan
Website: https://www.shokoku-ji.jp/en/ginkakuji/
8) Enryakuji - Mountaintop Temple
Enryakuji is a Buddhist temple in Japan that was founded in 806 by Saicho Daishi during the mid-tenth century.
The site of Enryakuji is considered to be one of the most sacred sites in Japan. It is located on Mount Hiei, which is situated between Kyoto city and Lake Biwa.
This temple consists of ten subtemples, which are collectively named Enryakuji Go-sanjo.
They are divided into two groups: The Five Greater Temples on the Eastern Side and The Five Lesser Temples on the Western Side.
The area can be visited by hiking the mountain, driving, bus, or by ropeway from either side.
Time: The area on the mountaintop can be visited any time, but the temples will be closed in the evening.
Location: 220 Sakamotohonmachi, Otsu, Shiga 520-0116
Website: https://www.hieizan.or.jp/
9) Nishiki Market - Kyoto's Traditional Street Market
Nishiki Market is one of the few traditional marketplaces in Kyoto that has survived the shift to modern shopping centers.
The Nishiki Market is a street market that stands on Takakura-dori Street, near the Kamo River. It takes up five blocks and consists of over 400 shops that sell fresh vegetables, meat, fish, fruit, clothing and more.
This market is open every day except for two days each month when it closes for cleaning purposes. The "Omatsuri Bazaar" or festival marketplace takes place in Nishiki Market twice a year with around 50 stalls selling handmade goods and souvenirs which are popular among tourists who visit Kyoto during these bazaars.
Time: You can visit this street 24hrs a day, but shops will close in the evening.
Location: 609番地 Nishidaimonjicho, Nakagyo Ward, Kyoto, 604-8054
Website: https://www.kyoto-nishiki.or.jp/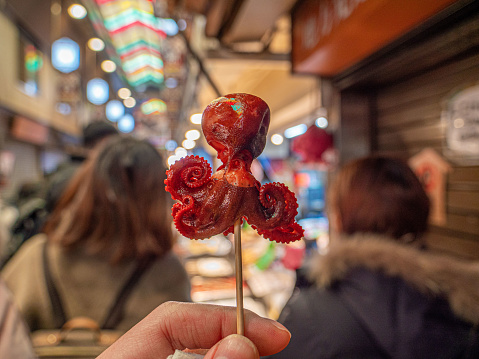 10) Nanzenji - Traditional Temple in Kyoto
As one of the most famous temples in Kyoto, Nanzenji has a long history. The temple was first established in 1291 and is a fine example of Kyoto's traditional architecture.
The temple grounds are divided into a number of gardens, each with a different theme. Visitors can enjoy the scenery from all four seasons as they walk through the grounds.
Nanzenji Temple is also home to Japan's oldest Zen Buddhist rock garden, which is called Keigan-En and was designed by Kobori Enshu, who was the minister of Emperor Go-Mizunoo.
Although Nanzenji is famous, it is less visited by tourists and is a good option to avoid the largest crowds.
Time: 845am-5pm
Location: 〒606-8435 Kyoto, Sakyo Ward, Nanzenji Fukuchicho, 86
Website: https://nanzenji.or.jp/
Conclusion: Why you should visit Kyoto
Kyoto is one of the most famous cities in Japan, and for good reason. It is a beautiful blend of modern city and traditional culture. Anywhere in the city is worth visiting as so much traditional architecture is preserved, but the places mentioned above are some of the most famous and influential locations in Kyoto.
Looking for places outside of Kyoto to visit? You will definitely want to read our post about real life anime locations you can visit in Japan!
---